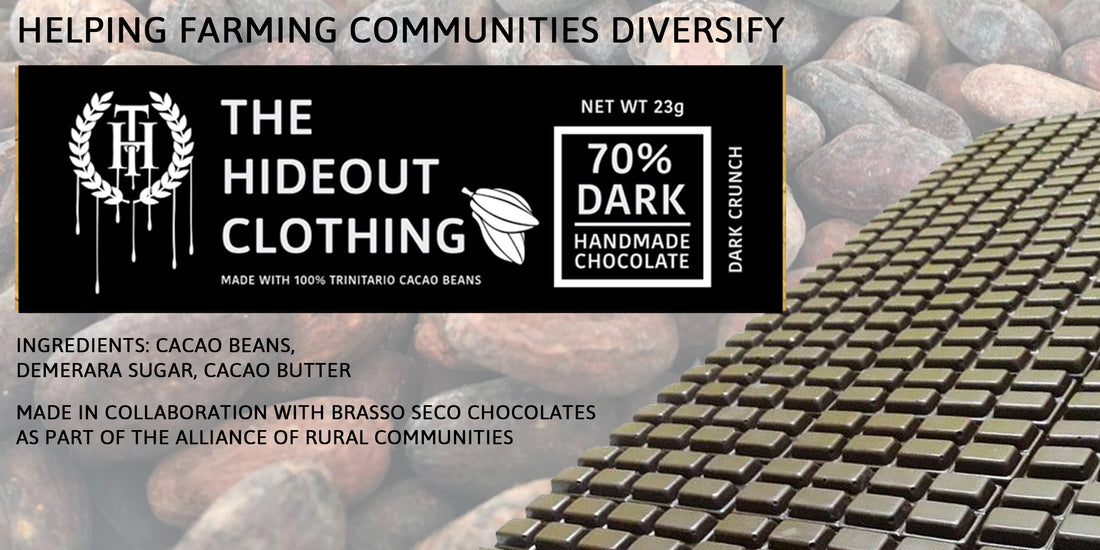 We made these chocolate bars in collaboration with Brasso Seco Chocolates as part of the Alliance of Rural Communities.
Brasso Seco Chocolate Company source its Trinitario cacao beans from the mountain estate of Brasso Seco, a picturesque village nestled in the Northern Range rainforest, at the base of the highest peak in Trinidad, Mt. El Cerro del Aripo, located in the Caribbean. It is a lovely small community of about 300 residents (some are from the Amerindian descent and many who have been here for generations) .
The Brasso Seco Chocolate Company is part of the Alliance of Rural Communities that help farming communities diversify and create sustainable sources of income. 
This fine flavored handcrafted chocolate bar is made by Brasso Seco Chocolate Company, one of the first rural community-owned chocolate companies in Trinidad and Tobago . This chocolate bar is made from single cacao estate, grown, picked, roasted and moulded by the same farmers' hands, every time.
This bar will help you experience the pristine and simplicity of Mother Nature in the Caribbeans. The addition of cacao nibs adds a unique nutty flavor and crunchy texture that gives a whole new meaning to chocolates and nuts, not to mention the supercharged health benefits of anti-oxidants and flavonoids contained in the cacao nibs!
Tasting Notes: Strong cacao flavor, with earthy notes and mild undertones of fruitiness.
Handmade with 100% Trinitario Cacao Beans. All Natural Ingredients. Grown Chemical Free.
Ingredients: Cacao Beans, Demerara Sugar, Cacao Butter
This product is not THC infused - yet.