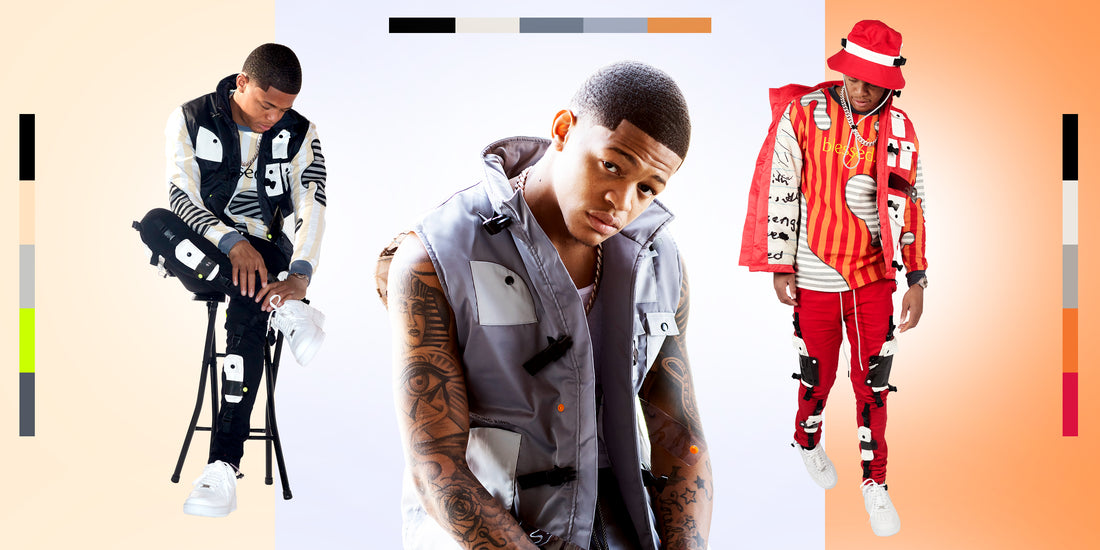 THC has teamed up with "Worth It" American rapper and R&B vocalist YK Osiris for our latest collaboration - 'Young King I'. YK Osiris, with close to 3M Instagram followers, is a big fan of THC, and has been organically wearing the brand before the collab started.

'Young King I' brings together the aesthetics of THC and YK Osiris for a futuristic take on streetwear. The collab came about by a mutual appreciation by THC and YK Osiris for each other's craft, enabling us to collaborate on the designs. The drop plays with the look and feel of circuit boards and combines symbols of ongoing themes from YK's music and a futuristic interpretation of THC's previous collections, such as the "Blessed" prints and classic R&B aesthetics.

Focusing on three colorways: black, grey and red, with a dash of orange and neon – riffs on tech and futurism are illustrated with removable pockets on gilets and trousers. Additionally, fabric buckle clips showcased on the matching bucket hats add a sense of playfulness present throughout the collection. This is further discussed with the organically shaped patchwork on the long sleeved t-shirts: combining stripes and a print of 1s and 0s, illustrating the immersion of organic life and the futuristic, virtual universes.